A Better Bean
...Better Coffee for a Better World

Our Philosophy ·  Our Beans ·  Our Roast · 

 · 

Contact Us ·  Coffee Contacts · Join Our Mailing List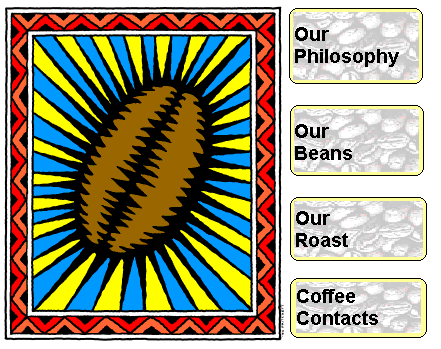 Our Philosophy
At A Better Bean, we pride ourselves in roasting only the finest Fair Trade organic coffees available. We search the world over for that particular plantation which not only produces a high-quality bean, but one that pays their workers a competitive wage as well. And we only use organically grown varieties. Our philosophy is that we must give back to the Earth in greater proportion than what we take.
The world is an ever-shrinking place. As forests are cut down for lumber, the environment is losing one of its most important resources. To that end, we have a line of shade grown coffee.
A Better Bean is a craft roaster. Our beans are carefully selected to be the best. We roast in small batches to guarantee a consistent cup every time. And, unlike some of our bigger breathren, we do not mind telling you what country or countries a blend hails from. The region of a country where a bean is grown speaks volumes to its taste and aroma. We feel that just as you have a right to get a recipe from the chef at a restaurant, you should also get the information about the beans going into your cup of coffee. It is key to knowing whether the blend will be to your liking. Try getting Starbucks to tell you what goes into a bag of Cafe VeronaTM!
Our Guarantee
We operate in an environmentally-friendly manner in all aspects of our business
Everything we sell is of the highest quality available
If you are not completely satisfied, we will give you your money back
---